2 x ACHROMIN Skin-whitening cream 45ml Anti dark age spots freckles
New Hot
2 x ACHROMIN Skin-whitening cream 45ml Anti dark age spots freckles
Stock:

In Stock

Model:

achromin
Description
Achromin® is an award-winning European skincare brand, specially designed to target skin hyperpigmentation, acne, redness and dryness.
ACHROMIN Skin-whitening cream UV-Protection 45ml for All Skin Types Market leader since 1965! The new skin-whitening cream ACHROMIN: new improved formula for a softer, more delicate whitening the exceptional skin whitening effect of the product is achieved through the active components that block the melanin hyper production quickly and reliably removes dark spots, such as: freckles, age pigmentation, dark spots, spots during pregnancy, etc.
2 pieces of Achromin Skin whitening cream.
This offer is being shipped directly from our European supplier. Supplier is out of UK so Shipping might be around two weeks.
formula, enriched with lactic acid: improves skin turgor and reduces the depth of wrinkles
efficacy and safety of the product is clinically tested contains UV filters for protection agains the damages of sunlight, photo-aging and reduces the process of pigmentation perfect for daily care, effective action and compatibility even with very sensitive skin visible result after 6 weeks of regular use great price/quality ratio
Skin Whitening System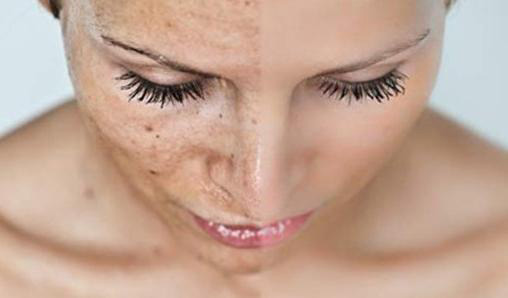 Vitamin enriched moisturizer for healthy lighter and brighter skin Erase the signs of dark spots and blemishes while promoting healthy skin Gently melts into the skin to reveal a purer complexion Vitamin boost for even complexion
One step multi=purpose cream very efefctive for sensitive and blemished skin! Improves and reduce age spots, freckles and melanin pigmentation. Provides vitality to dull skin and brightens complexion with powerful whitening and moisturizing complex.
This one-in-all whitening cream increases skin flexibility to stress, improves resiliency, inhibits melanin production and promotes skin. Vitamin B3 helps relieve bacteria buildup and prevents inflammation as well as prevents acne.
Multi-function skin whitening system features: Whitening complex + Hydrating therapy Evident and long-lasting result Reduces the pigment intensity of spots, prevents their reappearance Skin irritation test completed, it's safe for sensitive skin! Maintains lighter and moisturized skin without stickiness! Increases skin restoration and elasticity
Name:
Skin whitening cream ACHROMIN Function: Multipurpose skin whitening cream product The product is not tested on animals. Produced in compliance with the cosmetic regulations of the European Union.
Application for use: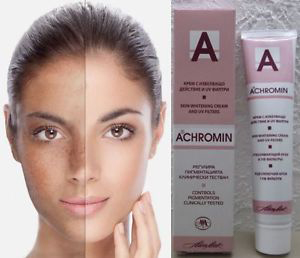 Apply onto cleansed skin with gentle massage movements twice a day - morning and evening. If applied regularly, there is a visible result after 2-3 weeks. Best results are obtained at the end of the recommended 20-30 days program. To maintain optimal effect apply 2-3 times weekly.
Precautions:
The skin whitening cream usually shows a very good skin tolerance. In case irritation or reddening appears on sensitive skin, it is recommended to terminate the application of the cream for 4-5 days. After this period is over the cream should be applied only in the evening for another 4-5 days and then again in the morning and in the evening. Close the tube well!