Daktarin Aktiv For Athlete's Foot Cream 15g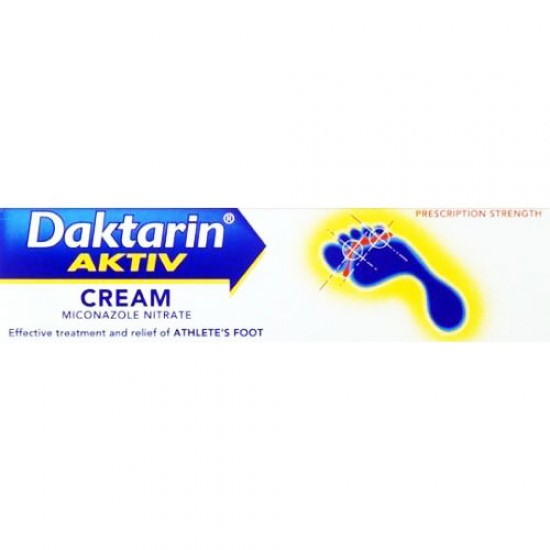 New Hot
Daktarin Aktiv For Athlete's Foot Cream 15g
Stock:

In Stock

Model:

daktarin
Description
Daktarin Aktiv For Athlete'S Foot Cream 15g - Daktarin Aktiv Cream Miconazole Nitrate
Treats and is a relief for Athletes Foot / Soothes & Relieves Dry Skin / Moisturises Your Skin.
Daktarin Aktiv cream and spray powder both contain the active ingredient miconazole. Miconazole is an antifungal medicine used to treat infections with fungi and yeasts. Daktarin Aktiv products can be used to treat this infection in adults and children of all ages.
The cream is useful for treating skin that is sore or cracked.
Contents:
Miconazole 2%, PEG-6, PEG 32 and glycol stearate, Oleoyl macroglycerides, Liquid paraffin, Benzoic acid (E210), Butylated hydroxyanisole (E320), Purified water.
Indication:
For the treatment of athlete's foot.
Dosage:
Apply twice daily. Treatment should continue for 10 days after all signs of infection have disappeared.
Chapter:
Athletes foot and fungal skin infections.
Athlete's foot, known medically as tinea pedis, is a common skin infection of the feet caused by fungus. Signs and symptoms often include itching, scaling, and redness. In severe cases the skin may blister. Athlete's foot fungus may infect any part of the foot, but most often grows between the toes. The next most common area is the bottom of the foot.[4] The same fungus may also affect the nails or the hands. It is a member of the group of diseases known as tinea.
Tinea pedis is caused by a number of different fungi. These include species of Trichophyton, Epidermophyton, and Microsporum. The condition is typically acquired by coming into contact with infected skin, or fungus in the environment. Common places where the fungi can survive are around swimming pools and in locker rooms.
Treatment can be either with antifungal medication applied to the skin such as clotrimazole or for persistent infections antifungal medication that are taken by mouth such as terbinafine. The use of the cream is typically recommended for four weeks.
Miconazole kills fungi and yeasts by interfering with their cell membranes. It works by stopping the fungi from producing a substance called ergosterol, which is an essential component of fungal cell membranes. The disruption in production of ergosterol disrupts the fungal cell membrane, causing holes to appear in it.
Disclaimer:
This information is provided for your reference only and it is not to be relied upon on its own as instructions for use of this medication. It is not a replacement for and should only be used in conjunction with full consultation with a licensed healthcare professional, the information provided by your pharmacist and the manufacturer of the medication. It may not contain all the available information you require and cannot substitute professional medical care, nor does it take into account all individual circumstances.
Nonprescription antifungals include clotrimazole (Lotrimin), miconazole (Micatin), terbinafine (Lamisil), and tolnaftate (Tinactin). These medicines are creams, lotions, solutions, gels, sprays, ointments, swabs, or powders that are applied to the skin (topical medicine). Treatment will last from 1 to 6 weeks.